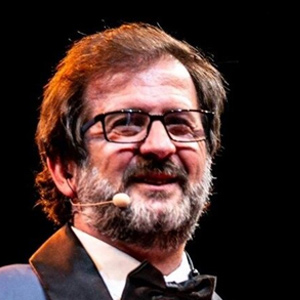 Carlos M. Cunha
Actor e Comedian at 'Commedia a La Carte' (Portugal)
Carlos M. Cunha was born in Azinhaga, in Ribatejo. He was an Air Force corporal, a salesperson in a multinational company, an artisan, and only after turning thirty years old, did he step onto the stage for the first time.  
He moved to the Alentejo region, where Theater captivated him up to the present day. He was part of Teatro do Mar in Sines, Teatro Pim in Évora, with a brief time at Chapitô, in Lisbon. In 2000, he co-founded Commedia a la Carte, with César Mourão and Ricardo Peres, a pioneering group in theatrical improvisation in Portugal, becoming one of the prominent names in national improvisational comedy. 
Since then, he has regularly participated in TV series and programs, such as "Cinco Para a Meia-Noite," along with his other project, the Spam group. 
thursday august 31st
Commedia a La Carte